Update: We're looking forward to you joining us at this event tomorrow morning. Fortunately, the weather forecast has improved for the day.
For further information about getting there, parking, the site and schedule for the day, see On the Day
December 3 is the International Day of Persons with Disabilities.
To celebrate the day we invite you to join us, the Minister for Disability Issues - Poto Williams and Whaikaha - Ministry of Disabled People Chief Executive Paula Tesoriero for a morning of fun and activities for disabled people, families, tangata whaikaha Māori, whanau, and aiga.
When: 10.30am – 12.30pm, Saturday December 3
Where: Dallington Landing, Gayhurst Road, Dallington, Christchurch
The purpose of the event is community. To provide opportunity for people to come together after a challenging few years. We're expecting this to be a smaller, relaxed event.
There will be a few short speeches followed by some simple refreshments as well as some completely optional activities taking place in the grassed areas led by the team at Whānau Whanake. During or after the event, you are welcome to bring your own picnic and enjoy the newly developed space at Dallington Landing Follow the Facebook event or refer back to this page to keep up to date with all event information and updates.
This event is jointly hosted by DPA, Whānau Whanake, Hei Whakapiki Mauri, and Disability Leadership Canterbury.
On the Day
Here's some further information to assist you in planning to come to the event:
Getting there
Dallington Landing is located on the Corner of Gayhurst Road and Avonside Drive.
The closest bus routes to the area are the 44 at stop 51404 on Gayhurst Road near the intersection of McBratney's Road, or the Orbiter at stop 51072 or 51190 on Woodham Road near Gayhurst Road.
Drop Off
There will be a drop off point available off Glenarm Terrace, to the right (keep going to the end) on Locksley Ave.
There is no parking at the drop off point.
Parking
There are two Mobility Parks located on Gayhurst Road, these will be occupied on a first in first parked basis.
Park is available on Glenarm Terrace, Gayhurst Road, or in surrounding streets.
Site information
Although some of the area surrounding Dallington Landing leaves a bit to be desired in terms of Accessibility (it's in the Red Zone), the landing itself has smooth paths, some fixed tables and bench seats (not old style picnic tables!) and there are Accessible toilets that also have a bench seat in them.
Refreshments
Refreshments will be provided, a coffee cart at the start of the event, water throughout, and ice creams nearer the end. If you would like, you can bring along other snacks or a picnic, and feel free to stay on and enjoy the landing after the official event has finished!
Health and Safety
It might not be too sunny, but just in case, please be sunsmart and bring your hats and sunscreen or whatever protects you from the sun. There are some shaded areas at the landing.
Schedule of the day
10.30 am - Event commences, coffee and activities available
11am (ish) – A few speeches, including from the Minister for Disability Issues and the Chief Executive of Whaikaha – Ministry of Disabled People
11.30am – Activities and connection
12pm – Ice cream, activities and connection
12.30pm – Event finishes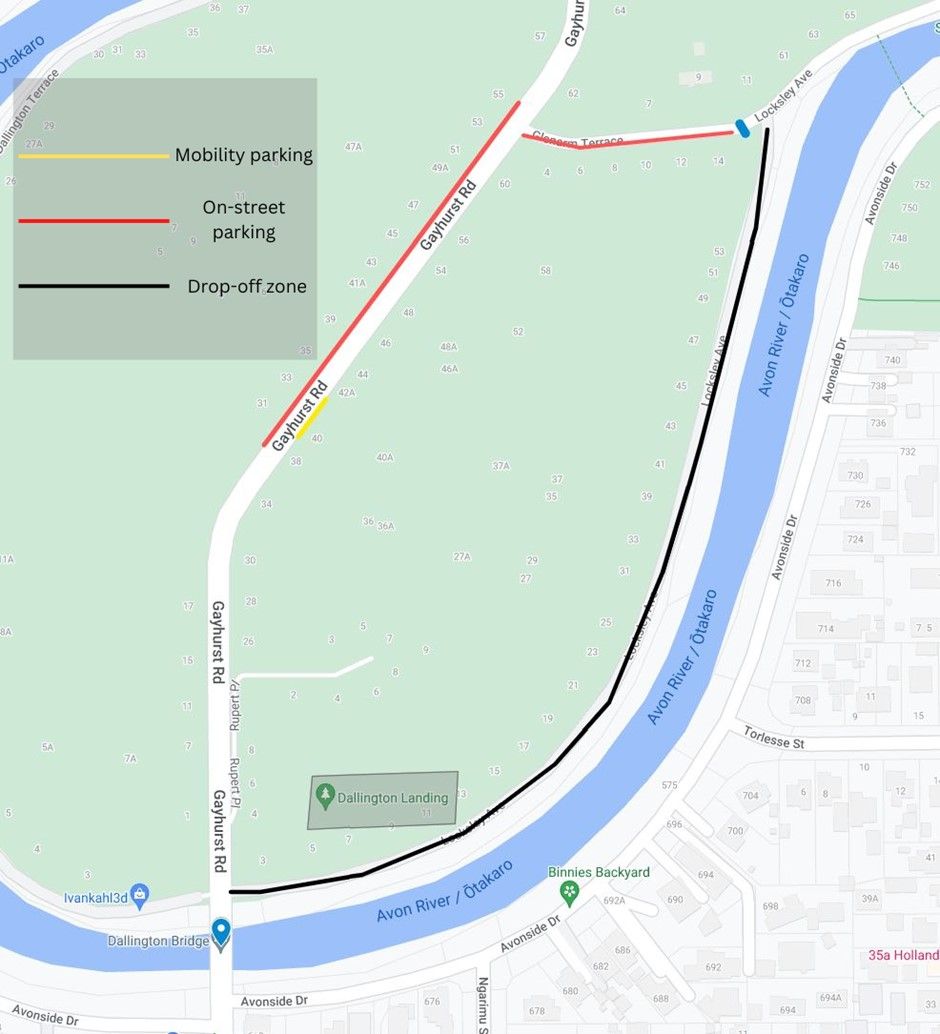 [Image description: A flyer reading "December 3 2022. Join us for a morning of fun and activities for disabled people, families, tangata whaikaha Māori, whanau, and aiga to celebrate... International Day of Persons with Disabilities." Underneath are the logos of Hei Whakapiki Mauri, Whānau Whanake, Disabled Persons Assembly (DPA), and Disability Leadership Canterbury.]